For my birthday in January 2007, my mom sent me a sheet of the first day issue of the United States Postal Service's Ella Fitzgerald commemorative stamp (as well as products that went along with it such as the information card, an envelope, etc.) Actually, she sent me two sheets of the Ella stamp…and one of them will go to one lucky Ella fan at "An Ella Celebration" on November 29. This will be part of a prize package f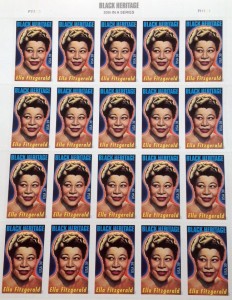 or a draw that was supposed to be for early bird purchasers which I'd mentioned way back.
The draw was to have been for anyone who bought a concert ticket before mid-November but since the show is essentially sold out – still a few in my private stash! – well, everyone who attends has a chance to win!  In addition to the Ella stamps, the Ella-bration prize package will also include the following: a $40 gift certificate to Zolas Restaurant, a wonderful venue for great jazz and fine dining in Ottawa's west end; two passes to the ByTowne Cinema, for the best in film located in downtown Ottawa (approx. value $20/must be presented with valid Bytowne Membership); and a $20 iTunes Music Card so that you can buy yourself some great Ella tunes online! The draw will take place at "An Ella Celebration" on November 29 and you must be present to win.