"Just got back from a couple of cruises,
With a souvenir tan and a couple of bruises,
Had so much fun but didn't fall in love"
(sung to the tune of "Nice 'N Easy" at a recent gig)
As many of you know, I had the pleasure and privilege of sailing on not just one jazz cruise but two back-to-back cruises in January and February that took me all around the beautiful Caribbean while listening to some of the very finest jazz musicians on the planet.  As I described in song, I did not have the thrill of a shipboard romance and took a tumble in the Bahamas (what else is new!?) but everything else filled my every heart's desire!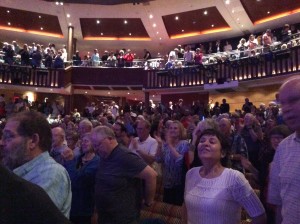 I was delighted with the whole experience on both The Jazz Cruise '17 and Blue Note At Sea '17 and enjoyed making an informal presentation about them at GigSpace on February 25 to about 15 jazz friends so that I could fill folks in first-hand about what goes on.
For more information and for what's coming up in 2018, please visit The Jazz Cruise website from which you can link to BNAS and other cruises organized by Entertainment Cruise Productions (they also do a Star Trek cruise for any Trekkies out there). Or you can contact me!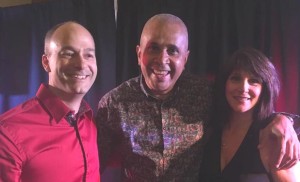 Thanks to everyone that joined us at Friday Night Jazz on February 24 at the Ironstone Grill in the Marshes Golf Club in Kanata. It's so uplifting to play for a room full of happy, enthusiastic, attentive and appreciative jazz lovers and it's really what makes the adventure of performing so special and worthwhile. A big thanks to our musical host Miguel de Armas for inviting me to collaborate with him for the first time and experience his incredible artistry and energy from the stage. And to Normand Glaude, with whom I've played many times now, and who never ceases to amaze me with his creative and enthusiastic expression on the double bass, thanks again.
Coming up: a concert at GigSpace in late April (info. to follow soon); a concert in May in my second home of Merrickville at the beautiful Baldachin Restaurant (arrangements in the works); and then working on developing my Ella concert.
I so look forward to presenting

my tribute to the great Ella Fitzgerald

, probably in October; just waiting for a few confirmations. This is one of the main reasons I won't be performing too often this year as I want to devote most of my musical energy toward preparing for that concert. It promises to be a special evening and I am eager to celebrate the career of the jazz vocalist who was my first influence and an enduring one to this day.
F

or more information where available, please check the Performances Calendar. See you on the jazz scene!
"Discover what's on in jazz all year long at OttawaJazzScene.ca"