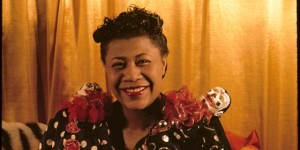 The Ella show is now SOLD OUT!
The venue is ready, the set list is confirmed, the rehearsals have begun, the arrangements are in the works, the original KLO song is ready to go and the script is underway. And pretty soon, it will be time for An Ella Celebration! The Classic Songbook Recordings. The concert takes place on Wednesday November 29, 2017 in the newly renovated National Arts Centre Fourth Stage. I so look forward to presenting this tribute to Ella, the First Lady of Jazz, who inspired me to explore jazz and ignited my own desire to sing the standards.
Advance ticket sales kept a steady pace and were especially strong in August, September and early October and by mid-October, the concert was SOLD OUT. Thanks to everyone who purchased tickets; your interest and support is so appreciated.
IF YOU HAVE AN ELLA TICKET THAT YOU CAN NO LONGER USE, PLEASE DON'T HESITATE TO LET ME KNOW AND I CAN SELL IT FOR YOU TO SOMEONE ON THE WAITING LIST. You can contact me at karenoxorn@sympatico.ca.
It promises to be a special evening and I am eager to celebrate the career of the jazz vocalist who was my first influence and an enduring one to this day. I am so pleased to once again collaborate with Mark Ferguson who will be the Music Director for the concert AND who used to play with Miss Ella Fitzgerald in Toronto back in the day! I am also delighted to collaborate for the first time with Guest Vocalist Michael Curtis Hanna, a recent arrival on the Ottawa scene and an exciting artist not to be missed!  
The Ella Celebration Band features some of the finest musicians on the local scene: Tim Bedner on guitar, Mark on piano and trombone, Normand Glaude on double bass, Scott Latham on drums, Ed Lister on trumpet and Vince Rimbach on saxophone.
See you on the jazz scene!
"Discover what's on in jazz all year long at OttawaJazzScene.ca"